Large Dolly outlets and switches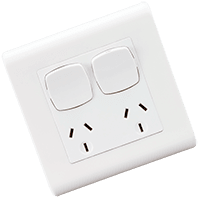 Large Dolly + Large Format
Size: 120mm x 120mm (fixing centres 84mm)
Large Dolly + Standard Format
Size: 72mm x 120mm (fixing centres 84mm)
Transco provides two sizes of facia for Large Dolly series of switches and sockets: Standard size 72 mm x 120 mm, and Large Format size 120 mm x 120 mm. Both sizes have the standard fix center 84 mm, so that they can be installed the same way using the same mounting brackets. Both sizes are equipped with large rocker switches for easier locating and operating.
Stylish beveled edge cover​
The Transco Large Dolly series is ergonomically designed for ease of use, by all ages, for the disabled and the abled alike. It has a stylish beveled edge cover, available in classic pearl white and the very modern satin chrome.
The plug & play adaptor
Allows the Large Dolly series to be universally integrated with any other standard data & electrical accessaries, including other brands' switches, dimmers, RJ45, TV sockets and many more.
The Transco Large Dolly series of large dolly switches & power outlets are manufactured in accordance with AS/NZS3100, AS/NZS3133, meeting all relevant Australian Standard, and complies with the latest wiring rules. The Transco Large Dolly series exceeds all electrical supply authority standards
Large Dolly outlets and switches
Power Point Double Outlet GPO Euro Large Dolly Rocker Prestige Style Large Format 10A

Quote